Entertainment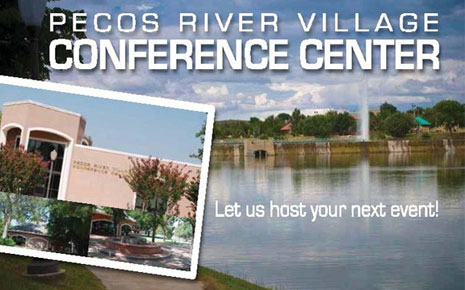 Pecos River Village Conference Center
In the early 1970's President's Park was built on the current site of the Pecos River Village Conference Center. This park included an antique carousel, train rides, bumper cars, and many more attractions for residents and visitors to Carlsbad. The City of Carlsbad later purchased the property and existing building and they were converted into what is now the Pecos River Village Conference Center. The Center is owned by the City of Carlsbad and managed by the Carlsbad Chamber of Commerce.
Whether you are planning a conference, corporate retreat, family reunion or other festive occasion, the tranquil setting of the Pecos River Village Conference Center is the place for you! Located on the banks of the sparkling Pecos River, the Village offers five meeting rooms, a large colonnade, and the Carousel House banquet facility.
The Carousel House can accommodate 200 classroom style, 400 theater style, or 300 banquet style. This is a wonderful setting for more formal or larger meetings, and the dance floor makes it the perfect place for wedding receptions! The five additional conference rooms vary in size and the larger rooms can seat up to 100 theater style.
The Conference Center includes courtyards, covered dock areas, and beautiful grounds for outdoor functions, and a large commercial kitchen. Please note that certain restrictions apply if alcohol is being served at a function.
The Village area of the Center is transformed into a Christmas Village during the annual Christmas on the Pecos -- complete with dining, shopping, and sometimes a visit from Santa!
Please contact the Chamber of Commerce at 575-887-6516 to see how you can have your next event at the Pecos River Village Conference Center.
711 Muscatel Ave, Carlsbad

NM
88220

US