Enjoy the Outdoors and Life on the Water in Carlsbad, NM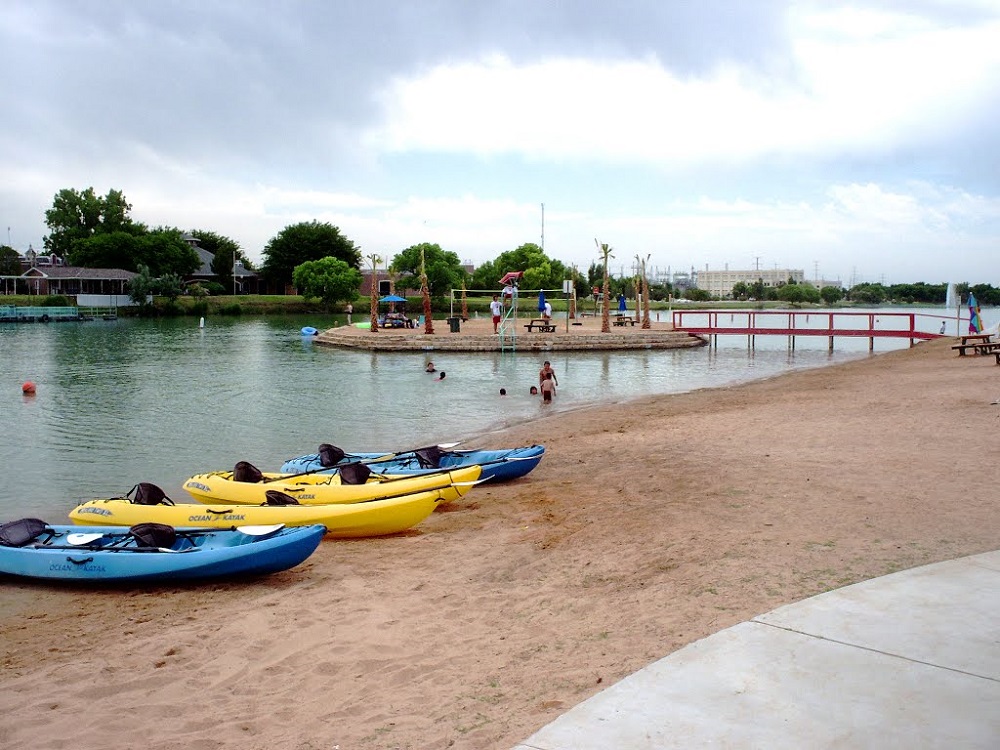 One reason the quality of life is superb in Carlsbad, NM is because the pioneers knew what they were doing when they settled along the Pecos River. When you think of Carlsbad, desert and caverns may come to mind, but right in town there are miles of riverfront walkways and trails, boating, fishing, and the popular Lake Carlsbad Beach Park. Travel a mere 12 miles north and the wide open spaces of Lake Brantley State Park are there to enjoy. In Carlsbad, it is easy to play as hard as you work. It is apparent why Carlsbad topped the list of Expedia's "21 Most Scenic Southwest Cities."
Lake Carlsbad (Pecos River) Recreation Area / Lake Carlsbad Beach Park
The Lake Carlsbad Recreation Area is 125.6 acres located in the heart of Carlsbad at 708 Park Drive along the Pecos River from the railroad bridge south to the upper Tansil Dam. Here you can find pecan trees shading grassy spaces and nearly five miles of lighted walkways.
The river is not just beautiful scenery: anglers cast their lines into placid waters, swimmers splash about, water-skiers plane behind speedboats, and canoes, kayaks, and paddle boats are available for rental in the beach area. Playgrounds, picnic tables, grills, benches, tennis and racquetball courts, sandy beaches, and a boat launch are there to enjoy. New this year are sand volleyball courts and pickleball courts, showing that Carlsbad is dedicated to the quality of life of its residents.
The area is also home to the Lake Carlsbad Golf Course, Carlsbad Water Park, and several RV parks and campgrounds. Carlsbad has taken full advantage of its jewel of a resource.
Brantley Lake State Park
Brantley Lake State Park on the Pecos River was officially opened in November 1989 and is known for water recreation and fishing. The most common fish stocked by the New Mexico Department of Game and Fish include largemouth bass, walleye, channel catfish, trout, sunfish, white bass, bluegill, and crappie. The lake is also a great spot for hiking, bird watching, picnicking, and camping.
With a surface area of approximately 4,000 acres, Brantley Lake is a spacious place for boating, swimming, waterskiing, jet skiing, sailing, and fishing. There are boat ramps and a dock.
Even with all of this water to enjoy, uniquely, the desert ecosystem is right there to explore . . .
The Living Desert Zoo and Gardens State Park
The Living Desert Zoo and Garden State Park is just an 11-minute drive from the Lake Carlsbad Recreation Area and sits atop the Ocotillo Hills overlooking the Pecos River Valley. This fascinating park exhibits the Chihuahuan Desert region's varied plant and animal life. Visitors can enjoy a 1.3-mile walk along a nature trail to view the native plants and animals. At the Visitor Center, displays explain the Permian Basin's formation, the origins of the area's oil and gas deposits, and the Mescalero Apaches' history and culture.
Carlsbad Department of Development
Thinking of moving to Carlsbad where you can play as hard as you work? Carlsbad Department of Development (CDOD) can help with your housing search and relocation needs. You can schedule a tour with their staff to explore the newest housing developments. They supply some selected residential listings and a list of apartment communities. Explore their website to research all about Carlsbad's work environment, recreation, and quality of life. Follow CDOC on Facebook and LinkedIn.