Loving, NM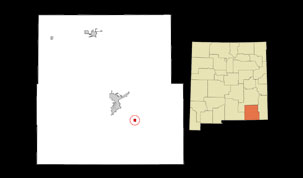 In the decade following the Civil War, famous cattle barons John Chisum, Charles Goodnight and Oliver Loving drove vast herds of cattle along the Pecos River from Texas to Colorado and set up "cow camps" along river in what is now Eddy County. One such location was near a lazy bend in the river where, in 1867, Oliver Loving and another cowboy were involved in a skirmish with Comanche Indians. Both were wounded and Loving later died of his wounds in Fort Sumner. The Village of Loving, located near the spot of that fateful battle, was renamed in his honor. The village was first settled by Swiss settlers in 1891. They originally named their settlement Vaud, a state in Switzerland where most of them originated and later changed on June 1, 1908, the village's name changed. The Village of Loving became officially incorporated in January 1945.
The Village of Loving is located approximately 12 miles southeast of Carlsbad on US-285. It is a growing community of over 2,500 people (current estimates) that depends on agriculture, mining, nuclear material management, and lately, oil and gas production and processing. Loving has its own municipal school system, municipal water and sewer utilities, and a thriving business community. Click here for their Village Government.
Village of Loving, NM
Population
Population
Growth Rate
0.17%
Housing & Income
Income Projection
Median Household
$44,535 $48,296
Average Household
$64,408 $77,485
Per Capita
$22,504 $27,009
Workforce
2022 Educational Services - Businesses
Businesses
8
Employed
251
2022 Public Administration
Businesses
5
Employed
58
2022 Retail Trade Businesses
Businesses
5
Employed
46
2022 Food & Beverage Stores
Businesses
4
Employed
41
2022 Transportation/Warehouse
Businesses
2
Employed
21
2022 Other Service excl Pub Admin
Businesses
5
Employed
11
Average Commute Time
0 min.
Resident Commuters
367
Non-Resident Commuters
15